No More Foot Pumping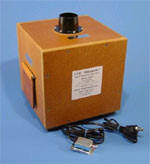 This new electric bellows unit is terrific news for anyone that would like to eliminate the need, or have at least have the option, of not having to do all that foot pumping.
It is important to note that the organ's bellows system is not removed from the organ. It stays in place. The new unit is attached to organ's bellows system. And no part of the unit remains outside the organ detracting from the organ's overall appearance. It's all inside.
So you always have the opinion of either manually foot pumping your organ, or when your feet get tired, switching on the new electric powered bellows unit. In addition, and I like this part, "it fits any size pump organ."
From my experience, and I've taken a couple of these units apart, they're very well made with sturdy, reliable motors with specially designed aluminum fan assemblies (which means no rusting).
They're also precision balanced, shock-mounted in insulated enclosures and offer vibration-free operation. Which means the unit is nice and quiet. It's not going to drown out the sound of the organ. So when you're playing all you hear is organ music.
Normally if a customer wants a unit installed, I generally do it when I'm restoring their pump organ. The customer pays the same price for these units as I do (I don't mark them up) which is about $275 plus shipping. I only charge an installation fee.
So if you're thinking of having me restore your pump organ, be sure and think about the electric bellows unit, because that would be the perfect time for me to do so.
Arndt Organ Supply Company L.L.C.
by mail:
1018 S. E. Lorenz Drive
PO Box 129
Ankeny, Iowa 50021