America's Best Known Restorer of Antique Reed Organs, Pump Organs and Melodeon Organs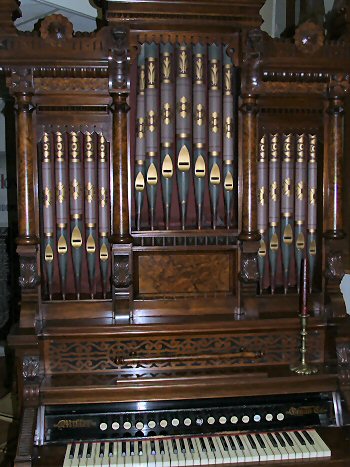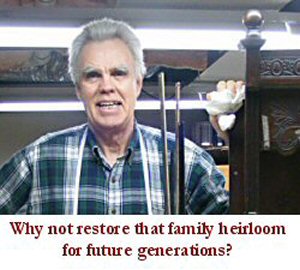 Antique Organ Expert Rod Fudge
Hello, I'm Rod Fudge, and I own and operate Pump Organ Restorations. I specialize in restoring all makes and models of antique reed organs (also known as pump organs) and melodeons to their original splendor.
On my website you'll learn exactly what's involved in restoring a pump organ. So have fun, browse around a bit, and I can guarantee you're going to find a wealth of information about pump organs and the professional restoration services I provide my clients.
Above is one of the finest examples of a reed organ you'll ever come across. Although the pipes may look real, they're just decorative. It's built out of 100% Walnut that was alive and doing well at the time of the American Revolution.
Click here for more detail pictures
More About Antique Organs & Pump Organs
When someone tells me they have an antique organ, a number of organs come to mind. Basically, there are 12 different types of antique organs. They range from the small lap organ to the fairly large and pretty heavy three manual (rows of keys) organ. While some of these organs might have only a few stops (the dowel-like things that you can pull out) others could have over 20 stops.



However, the one thing that almost all antique organs have in common is, you have to pump them with your feet, as a consequence, the general public came to call them pump organs. But if the truth were known the pump organ industry, the people that built them, always called them reed organs because their sound is produced from brass reeds. Incidentally, some of these brass reeds can be as small as 3/4 of an inch in length to over 5 inches.

The most common antique organ we see today is the parlor style pump organ because back in the 1880s, families would usually keep their pump organs in their parlor rooms (later called living rooms, today alled family rooms).
Pump Organ Restorations Memberships & Affiliations

Contributing Member

Proud Member of the
Organ Historical Society

Proud Member of
The Reed Organ Society, Inc.

Proud Member of the
American Guild of Organists

Proud to be a
Veteran